This November, representatives from nearly 200 countries will come together to coordinate "global climate action" for the next year — an event referred to as COP28.
COP28 stands for the 28th Conference of the Parties. Part of the United Nations Framework Convention on Climate Change (UNFCCC), the conference is generally known as COP.
COP meets in a different city every year and this year's will be held on 30th Nov – 12th Dec in Dubai, United Arab Emirates (UAE).
Ironically, the President of COP28 is Sultan Al Japar, chief executive of Abu Dhabi National Oil Company (Adnoc). The words "conflict of interest" clearly mean nothing.
Australia, in short, has a track record of overwhelming unambition when it comes to reducing carbon emissions. We can hold them acountable here at Extinction Rebellion WA (XRWA).
From COP1 through to COP20, something called the Kyoto Protocol was being worked on. This would hold wealthier countries accountable for reducing the world's carbon emissions. Europe promised to reduce its emissions by 8% in the five-year "commitment period", 2008 – 2012. The United States agreed to cut emissions by 7%, Japan and Canada by 6%. Australia negotiated "The Australia Clause" which meant that the country could produce 8% more emissions from the same base as the rest of the world, 1990.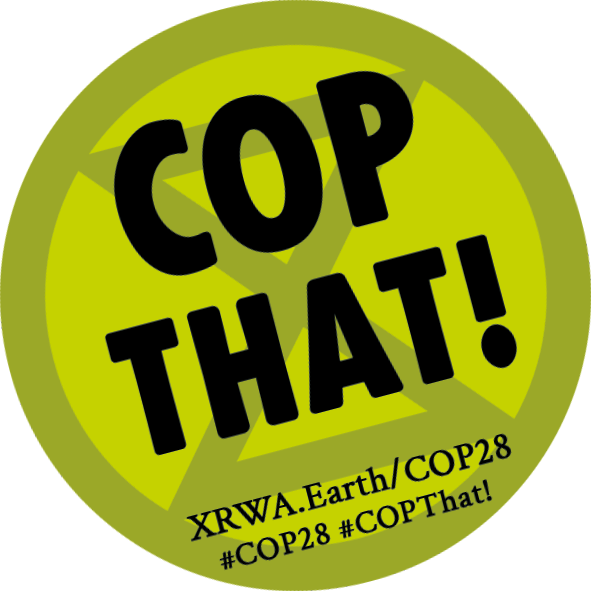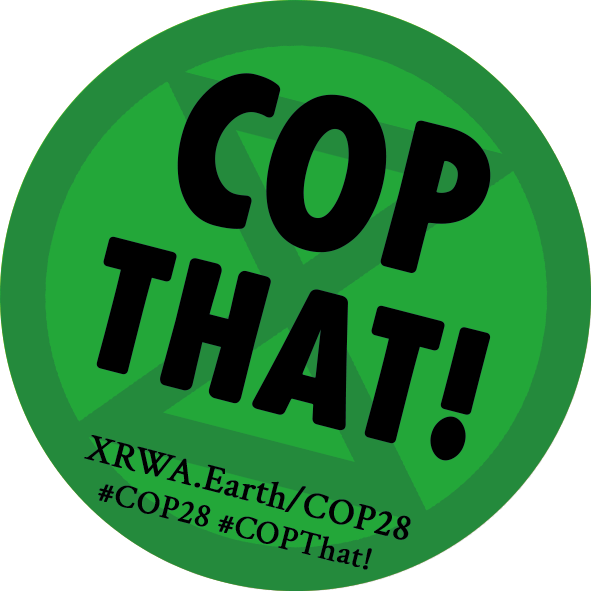 What's worse, the nation's emissions from burning fossil fuels could rise by 25-30% while overall emissions would still come in at under 8%. This is precisely what has happened. From 1990 to 2012 Australia's emissions from all sources except land-use change and forestry (leaving the fossil fuel industry accountable) grew by 26.5%.
Whilst the rest of the world had to work relatively hard to hit their targets, Australia could hardly miss.
The chief European negotiator, Ritt Bjerregaard, said that Australia had made a misleading case and "got away with it". The European Union's environmental policy spokesman Peter Jorgensen said that the Australian increase was "wrong and immoral".
Next came The Paris Agreement. This replaced the Kyoto Protocol after not enough countries agreed to renew the commitment period. This agreement focuses on keeping the world's total emissions in check so the global temperature increase stays under 2 degrees, and ideally 1.5 degrees, by 2030.
Australia's 2030 emissions reduction target has been described by some as less ambitious than that of most developed nations. Climate Action Tracker, an independent scientific analysis produced by four international research organisations, has rated Australia's target as 'insufficient', while Australia's own Climate Change Authority recommended in 2015 that Australia should have a target of a 30% reduction from 2000 emissions levels by 2025 and further reductions by 2030 of 40–60% below 2000 levels. However, the Australian Government maintains that 'our target is a fair contribution for Australia'. This is simply untrue when Australia has yet to meaningfully reduce emissions at all under COP legislation.
The pattern of climate inaction is clear, and the intention to keep it that way is unmistakable. The government are fully across that they're only at COP28 to pretend to Act Now on the climate crisis. We're united in standing against the government's barefaced lies and the almost guaranteed bullsh*t that will be fed to us during and after COP.
So, when we say COP THAT! We expect the government to accept why we're in protest. We're demanding that they finally Tell the Truth about what Australia needs to do for the planet, because they know its a hell of a lot more.
The President of COP28 and CEO of ADNOC, Sultan al-Jaber, has been caught planning to use COP28 as a tool to strike oil and gas deals with 15 countries, leaked documents reveal. 
Australia is one of these countries and the documents detail that they are "willing to jointly evaluate LNG [liquified natural gas] opportunities" with us, Mozambique and Canada. 
Who saw it coming? The CEO of a fossil fuel company hijacking a conference made to reduce global C02 emissions. 
Due to Australia's history at COP, sadly it's hardly a stretch to assume that the current government would take Sultan al-Jaber up on the offer.
Let's formally introduce you to XRWA, train you up, and get you out there standing with others who believe that it's about time the government steps up for the planet and steps up for your future on it.
Online Intro to XRWA Sessions 
Looking to begin your Climate Activism Journey? Just want to learn more about XR? Online Intro Sessions are exactly where you want to be. You'll find out how we got started, about our wonderful values and principles, aims and methods, how we organise and how you can get linked in and active. It's a great way to meet other new and not so new rebels as well. Invite a mate if you like and come along.
Sign up via Action Network
Learn more via our socials – Linktree
In-Person Intro to XRWA Sessions 
The perfect way to get stuck in and meet fellow rebels. Learn everything you need and make connections with like-minded people. Covering the same info as the Online Intro Sessions but you can make a day of it.
Sign up via Action Network
Learn more via our socials – Linktree
More actions coming soon…
Want to do your own? Contact us here to get your hands on COP THAT! stickers to punctuate your action and spread the word.
This is Bullsh*t | Completed Action.
Chalk-spray action performed by XRWA rebels targeting the WA Government greenwashing ad campaign "This is Climate Action".